Monthly Photo Walk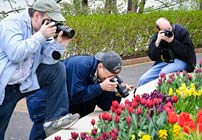 First Saturday of the Month
9 – 10 a.m.
Get expert tips on photographing the natural world of the Chicago Botanic Garden. Photo walk participants meet the first Saturday of each month at 9 a.m. for a brief talk, and then tour the Garden photographing whatever is in bloom.
Free photo walks are run in conjunction with our ongoing Digital Photo Contest series. Click here to see past Garden photo walk participant photos on SmugMug, or submit your photos to the current contest online at www.chicagobotanic.org/contest.
Our meeting location schedule for 2013 is as follows:
| | | |
| --- | --- | --- |
| January 5 | | Annex 1 |
| February 2 | | Alsdorf Auditorium |
| March 2 | | Alsdorf Auditorium |
| April 6 | | Boyer Room (formerly the Garden View Room) |
| May 4 | | Alsdorf Auditorium |
| June 1 | | Annex 1 |
| July 6 | | Annex 1 |
| August 3 | | Alsdorf Auditorium |
| September 7 | | Alsdorf Auditorium |
| October 5 | | Alsdorf Auditorium |
| November 2 | | Boyer Room (formerly the Garden View Room) |
| December 7 | | Annex 1 |