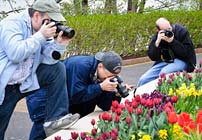 First Saturday of the Month
9 – 10 a.m.
Get expert tips on photographing the natural world of the Chicago Botanic Garden. Photo walk participants meet the first Saturday of each month at 9 a.m. in Alsdorf Auditorium for a brief talk, and then tour the Garden, photographing whatever is in bloom. 
Click here to see past Garden photo walk participant photos on SmugMug, or submit your photos to the current contest online at chicagobotanic.org/contest. Our meeting schedule for 2015 is listed below. 
January 3: New Year's Resolutions for Photographers
February 7: How to Look at Images
March 7: Working in Monochrome
April 4: Photo Bloopers and How to Avoid Them
May 2: Walk begins in the Crescent Garden, route to be determined
June 6: Walk begins in the Crescent Garden, route to be determined
July 4: Macro and Close-up Photography
August 1: Freezing Motion, Focus on Water
September 5: Color
October 3: Birds
November 7: Walk begins in Crescent Garden, route to be determined
December 5: Walk begins in Crescent Garden, route to be determined