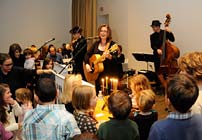 Sunday, December 21, 2014
11 a.m. and 1 p.m.
Alsdorf Auditorium
Advance: member/nonmember: $15/$17
Day-of: member/nonmember: $18/$20
Children 2 and under are free.
Standard parking fees apply.

Ticket price includes concert and a visit to Wonderland Express. Rabbi Joe Black and the Maxwell Street Klezmer Band will perform two one-hour concerts in Alsdorf Auditorium.