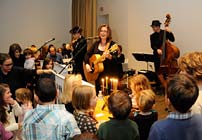 Thursday, December 29, 2016
11 a.m. and 1 p.m.
Alsdorf Auditorium
Advance Tickets: member/nonmember: $17/$20
Day-of: member/nonmember: $20/$23
Children 2 and under are free. Standard parking fees apply.
The clarinet swings, violin sings, voices rise, everyone is dancing! The Maxwell Street Klezmer Band will perform two festive one-hour concerts. Buy tickets in advance and save more than ten percent. Ticket price includes concert and a visit to Wonderland Express.
Extend your visit to the Garden with a delicious brunch at the Garden View Café.