Easter Egg Brunch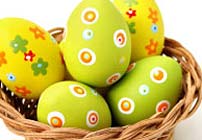 Sunday, March 31
seatings at 11 a.m. and 1 p.m.
Nichols Hall, Regenstein Center
SOLD OUT
Adults: $30/$35
Children (3-12 yrs): $24/$29
Children (2 and under): Free
Members pay the lower price listed
Price includes parking, taxes, and gratuity
Click here to view the Easter Brunch menu.
Enjoy brunch and an Easter egg hunt at the Garden and spend the rest of the day viewing all that spring has to offer.
Celebrate spring and enjoy a festive Easter brunch at the Garden. Bring a basket and hop to the Rose Garden after brunch and join in the Easter egg hunt before taking a stroll to explore the vibrant colors and spring blooms.
Have fun potting a spring plant in Burnstein Hall. Take it home and watch the plant grow in its biodegradable pot before transferring it to your garden outside!
Families of all ages will find the beautiful Greenhouses and outdoor garden spaces wonderful to explore before and after their brunch seating.