The Fall Bulb Presale has ended, but you can buy bulbs at the Fall Bulb Festival October 4 - 6.
The bulb sale and preorder pick-up are located in Burnstein Hall of the Regenstein Center. Preordering is available to everyone. Regular Garden parking fees apply for pick-up. All preorders must be paid by credit card via the web. Preorders may be picked up in Burnstein Hall during the Fall Bulb Festival hours: Friday, October 4, noon - 4 p.m; Saturday and Sunday, October 5 and 6, 10 a.m. to 4 p.m. Additional bulbs may be purchased during these times at the Fall Bulb Festival.
Preorders are processed in the order received. Bulbs are subject to availability and substitutions are not allowed. To ensure that you receive what you want, we encourage you to preorder your bulbs early. Orders cannot be shipped.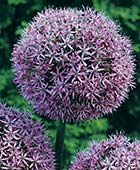 Allium 'Gladiator'
Ornamental Onion
A very tall stem (3-4') supports the tightly formed, softball-sized, bluish to lilac-purple flower head. A great sculptural effect in the garden should be planted in a full sun location. This allium is wildlife resistant and generally blooms in June.
1 bulb/$4
Allium 'Silver Spring'
Ornamental Onion

 

These dazzling 4" clusters of silvery, lilac-white florets with garnet-purple centers, have a remarkably appealing licorice fragrance and reach 26 inches in height. A beautiful selection from Israel that blooms in early June requires full sun and is wildlife resistant.

1 bulb/$6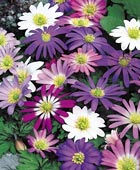 Anemone blanda Mix
Anemone
Cute, colorful, carefree, daisylike blooms in a mix of hot pink, pure white, and deep purple. They naturalize in areas of full to partial shade easily to provide a welcomed spring spectacle year after year.   Anemone blanda stands 6 inches tall and is wildlife resistant.
25 bulbs/$9.50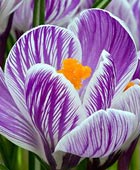 Crocus 'Pickwick'
Crocus
Blooms of lilac and white striped petals, with bright orange stamens, produces about three flowers per stem, standing 4 – 6 inches tall.
25 bulbs/$10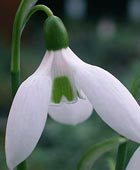 Galanthus ikariae
Snowdrops
Plant large clumps of these delicate white flowers that have a touch of green at the base of the inner petal.  These harbingers of spring that sparkle even through a late winter snow, are always a most welcome sight.  Galanthus ikariae stands 5 – 8 inches tall, thrives in partial sun and is wildlife resistant.
10 bulbs/$5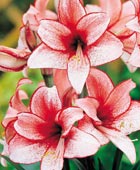 Hippeastrum 'Charisma'
Amaryllis
24-32"
An eye-catching flower with red-edged pink petals, flushes of red on the upper petals, and a deep-red throat.  A charmer!
1 bulb/$13.50
Hyacinthus 'Peter Styverssant'
Hyacinth
10-12"
A wonderful variety with rich-purple flowers with deep-blue highlights.  The stems are bronze colored. Very fragrant.
5 bulbs/$5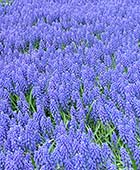 Muscari ameniacum
Grape Hyacinth
Spikes of heavenly fragrant and dark blue flowers perform best in full sun to part shade locations. Stems reach 6" and bloom in mid spring.
25 bulbs/$6.50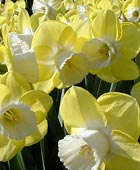 Narcissus 'Avalon'
Large Cup Daffodil
Midseason to Late
14-16"
Its substance and perfect form make this a sturdy, long-lasting, blue ribbon winner.  The yellow petals take on a buff hue with time, and the cup turns pure white as it matures.
10 bulbs/$11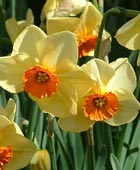 Narcissus 'Altruist'
Small Cup Daffodil
Late
14-18"
The shallow crimson-orange cup and the yellow-orange petals of this stunning flower lighten slightly as they mature.  A dazzling and award-winning selection.
10 bulbs/$12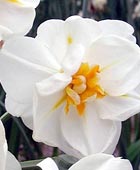 Narcissus 'Bridal Crown'
Double Daffodil
A multi-flowering, three to six flowers per 14-16" stem, daffodil with white and saffron-colored incredibly fragrant blooms. Blooms mid – late in the spring season, is wildlife resistant and is a great forcer.
10 bulbs/$6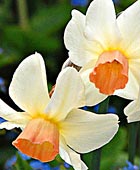 Narcissus 'Bell Song'
Jonquilla Daffodil
Late
12-14"
This strong-growing American-bred variety is white with a very smooth salmon-pink cup.  It has a delicate sweet fragrance.
10 bulbs/$6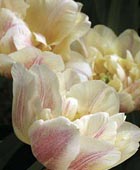 Tulipa 'Mountreux'
Double Early Tulip
16"
This soft yellow flower typically takes on a reddish glow as it matures. A stunning and beautiful color combination.
10 bulbs/$6
Tulipa 'Havran'
Triumph Tulip
Midseason
26"
The striking and sumptuous, dark purple to crimson shades of this flower will bring a dramatic flourish to your garden. For a dazzling display, combine with whites and pinks.
10 bulbs/$5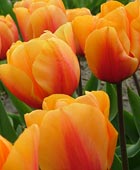 Tulipa 'Cash'
Darwin Hybrid Tulip
Early to Midseason
20"
This sensational flower has sunshine-yellow to gold petals that are splashed with red to rose flames. Plant masses of this bold newcomer and set your garden on fire!
10 bulbs/$10.50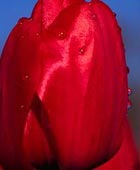 Tulipa 'Comeback'
Darwin Hybrid Tulip
Midseason
18"
The name could not be more appropriate!  This variety, with its deep blood-red flower accented with a tiny green base, is said to be the most reliable tulip in the garden. You can be assured of years of enjoyment from this great perennializer.
10 bulbs/$4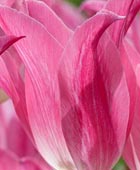 Tulipa 'Christina Van Kooten'
Lily Flowered Tulip
Late
22"
These striking flowers have deep-rose outer petals with cream-yellow flames that are brushed with rose.  Overall marbled effect is captivating.
10 bulbs/$7