World Atlas of Mangroves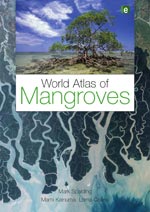 Author:
Mark Spalding, Mami Kainuma, and Lorna Collins
cloth, 319 pp., $99.95
This important reference of the world's mangrove forests, the work of leading experts in environmental sciences, is the first atlas to provide a global assessment of these ecosystems, country by country. This planet view contains information on the extent of these systems, their biodiversity, importance to mankind, and forecasted potential loss. Supported by major conservation organizations, the publication contains case studies and 60 full-page maps delineating the regions involved in this survey. Hundreds of photographs, illustrations, and comparative tables provide students, research scientists, and professionals with valuable information for their work.
— Marilyn K. Alaimo, garden writer and volunteer, Chicago Botanic Garden