Wildflower Gardens: 60 Spectacular Plants and How to Grow Them in Your Garden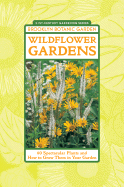 Author:
C. Colston Burrell (editor)
Publisher:
Brooklyn Botanic Garden
paper, 111 pp., $9.95
This collection of essays has gardening with wildflowers as its theme. Contributing authors first urge the reader to look to the native habitat of the region for inspiration in natural designs. The text then directs attention to the use of wildflowers in many garden situations, illustrating beds, borders, rock gardens, and special features. There is an extensive listing of plants suitable for different sun and shade conditions. Individual descriptions cite typical habitats and hardiness range, as well as cultivars, related species, and companion plantings. The text is notable for the excellent advice from experienced gardeners who provide valuable tips on wildflower selection and placement. Reference materials include suggested reading and a listing of nursery sources.
— Marilyn K. Alaimo, garden writer and volunteer, Chicago Botanic Garden