Wild Urban Plants of the Northeast: A Field Guide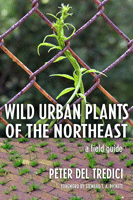 Author:
Peter Del Tredici
Publisher:
Cornell University Press
Paper, 374 pp., $29.95
Research scientist and educator Peter Del Tredici takes a different look at the vegetation of the urban area. He finds its aggressive nature a positive factor in the greening of the environment. Despite derisive labels for these plants, such as "weedy" and "invasive," he contends that the public should have greater appreciation for plants that are able to contend with complex urban ecosystems. Writing about what he calls the "wasteland flora," Del Tredici first defines those plants that fit this title and then creates lists for each type — ferns, horsetails, conifers, woody dicots, and monocots. Each description contains a plant's origin, characteristics, flower and fruit, methods of reproduction, where it is generally found, and its cultural significance. Excellent illustrations accompany the text so that the reader can easily identify individual species.
— Marilyn K. Alaimo, garden writer and volunteer, Chicago Botanic Garden