Weed Biology and Climate Change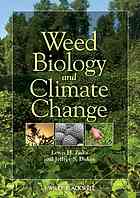 Author:
Lewis H. Ziska and Jeffrey S. Dukes
Publisher:
Wiley-Blackwell
decorated boards, 235 pp., $149.95
How do weeds affect food production, fires, diversity, and climate? This book is a first attempt to seek some answers about the social impacts of weeds on a heavily human-altered planet. Stakeholders include environmentalists, agronomists, policy-makers, and many others. A great deal of information on the nature of weeds and climate change is reviewed in this work. This is a wake-up call to scientists and other professionals, as more research is needed to understand the roles of weeds in the global environment. This fascinating book needs to reach a large audience, but its price might reduce its access to researchers in the developing world.
— Elaine Juhl, volunteer, Chicago Botanic Garden