Walls: Elements of Garden and Landscape Architecture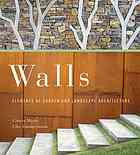 Author:
Günter Mader and Elke Zimmermann
paper, 136 pp., $40.00
Outdoor walls come in many forms and construction materials. German engineers in landscape gardening and architecture Günter Mader and Elke Zimmermann enumerate the usefulness of walls in a garden setting in this work generously illustrated with photographs and drawings. After reviewing their construction history and the cultural backgrounds of walls, the authors direct attention to the basics of their design before plunging into the different types of materials used today—stone, concrete, clinker brick, plastered walls and those with facings, earth, and walls of miscellaneous modern materials. They describe the advantages of each type and construction detail. Well organized, this collection of border-defining elements will inspire the professional and as well as garden lovers.
— Marilyn K. Alaimo, garden writer and volunteer, Chicago Botanic Garden