The Veggie Gardener's Answer Book: Solutions to Every Problem You'll Ever Face; Answers to Every Question You'll Ever Ask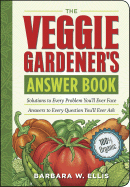 Publisher:
Storey Publishing
decorated boards, 431 pp., $14.95
Remarkably far ranging, the text of this book does have many answers and solutions to gardener's questions. A lifelong gardener, author Barbara Ellis has an appropriate reply to every query in this compact guide to vegetable gardening. This comprehensive reference book is highly recommended for the author's common-sense answers and clear directions on growing and harvesting vegetables. The narrative also includes information on crop selection and scheduling, making compost, organic gardening techniques, and additional details, all helpful to the vegetable gardener.
— Marilyn K. Alaimo, garden writer and volunteer, Chicago Botanic Garden