Vegetable Brassicas and Related Crucifers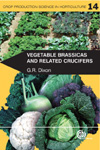 Author:
Geoffrey R. Dixon
paper, 327 p., $75.00
As part of a series on crop production science in horticulture, Vegetable Brassicas and Related Crucifers centers on the vegetable brassicas with an emphasis on plant culture as the key to pest and disease prevention. Commonly called the cabbage-kale family by gardeners, this plant genus is noted for the great diversity of its crops, which provide nutritious food for the world's population. The author, British scientist and educator G.R. Dixon, consequently focuses his book on this plant family while examining plant breeding and the potential for genetic manipulation to improve and increase global food supplies. The technical text covers a broad range of subjects of interest to professionals, commercial growers, and students in plant science fields.
— Marilyn K. Alaimo, garden writer and volunteer, Chicago Botanic Garden