The Uses of Wild Plants: Using and Growing the Wild Plants of the United States and Canada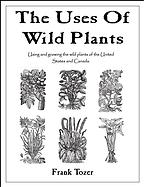 Publisher:
Green Man Publishing
This extensive reference to North American wild plants contains information on the uses and cultivation of more than 1,200 species in 500 genera, which provide food, medicine, dyes, and other amenities for the home and industry. As a dedicated environmentalist, author Frank Tozer urges readers to grow wild plants as crops in their own gardens, rather than depleting nature's resources in their usual habitats. Based on his extensive knowledge from field studies and from cultivating wild plants as crops, Tozer relates his findings in this well-organized guide for the gardener. In addition to descriptions of the major uses of each plant and methods for its culture, he includes the history of its usage by native peoples, information on horticultural applications, and health warnings when appropriate.
— Marilyn K. Alaimo, garden writer and volunteer, Chicago Botanic Garden