The Ultimate Flower Gardener's Top Ten Lists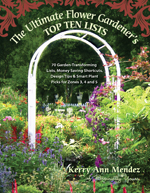 Publisher:
Lone Oak Press
Paper, 248 pp., $21.95
Garden writer Kerry Ann Mendez provides valuable information in this work, based on her experiences growing perennials and serving as a garden consultant in the northeastern United States. In the introduction, she reminds the reader of the importance of evaluating the specific environment for plantings before their selection. She then reviews her favorite plants for various purposes, sites, flower, and foliage. The reader will appreciate her special tips on garden design and care, as well as strategies for dealing with garden pests. On the practical side, there is a listing of useful money-saving gardening suggestions, which include buying from mail-order companies.
— Marilyn K. Alaimo, garden writer and volunteer, Chicago Botanic Garden