Ulf Nordfjell: Fourteen Gardens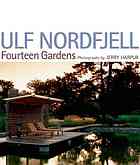 Publisher:
Frances Lincoln
Cloth, 197 pp., $50.00
Swedish landscape architect Ulf Nordfjell brings together his love of the environment and Swedish modern design, as illustrated in this photographic review of 14 gardens. Some are connected with historic sites, while others are private gardens of all sizes. The author tells of his background and the Swedish landscape with its "moving water, shifting light and the airy grasses," which have inspired his creations. The gorgeous photographs by Jerry Harpur reflect these influences, for the author uses drifts of perennial plantings that set off the spare forms of contemporary structures. The landscape architect discusses each garden, noting how he carried out his ideas for its design; these include a plant listing of spectacular displays. In 2007 and 2009, Nordfjell was cited at the Chelsea Flower Show in London for his designs of gardens in those shows. Readers will enjoy seeing his competitive works that received top awards.
—Marilyn K. Alaimo, garden writer and volunteer, Chicago Botanic Garden