The Tulip Anthology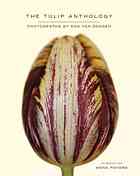 Author:
Ron van Dongen and Anna Pavord
Publisher:
Chronicle Books
Cloth, 231 pp., $60.00
Filled with floral portraits of extraordinary beauty, this gathering of flowers has as its theme the glory of tulips. Photographer Ron van Dongen, a native of the Netherlands, has found such bulbs entrancing from his earliest years and expresses appreciation through his stunning photography. This work, essentially a picture book, is enhanced with the text of Anna Pavord, a prominent bulb authority and author who has traveled to the source of these perennials. She traces the history of tulips and tells of their past and current status in the gardening world. Included in the book's miscellany are rare displays of tulips in artworks and decorated ware.
— Marilyn K. Alaimo, garden writer and volunteer, Chicago Botanic Garden