Tropical Plants of Costa Rica: A Guide to Native and Exotic Flora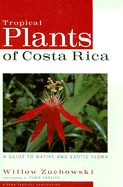 Publisher:
Cornell University Press
This comprehensive and well-organized book is an essential guide for any tourist to Costa Rica interested in ecosystems. The chapters are diverse, ranging from "Painted Treetops," "Roadside and Garden Ornaments," "Living Fences and Reforestation," to "Conspicious Grasses." The text of each chapter contains both helpful information as well as interesting commentary. The author, a botanist and guide, has lived in the Monteverde region for more than 20 years. Finding specific details is easier because of a detailed glossary, an index, and a list of species by family. The photographs by Turid Forsyth are a wonderful addition with sumptuous and exotic colors.
— Joan Richards, volunteer, Chicago Botanic Garden