Trees: A Visual Guide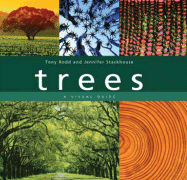 Author:
Tony Rodd and Jennifer Stackhouse
Publisher:
University of California Press
The stunning imagery in this reference to the world's trees, coupled with a text that examines their nature, use, and significance from every viewpoint, results in one of the most remarkably informative volumes on the subject. Beautiful photographs and illustrations capture the diversity in the characteristics of trees, providing the reader with a breathtaking visual treat in this gorgeously designed book. Botanists Tony Rodd and Jennifer Stackhouse deftly review a broad range of arboreal topics including their morphology, functions, and diversity, with special attention to profiles of desirable specimens, their relationship to people and animals, and their significant role in world biosystems. This spectacular, fascinating book is a fitting salute to the world's largest organisms.
— Marilyn K. Alaimo, garden writer and volunteer, Chicago Botanic Garden