Tree of Rivers: The Story of the Amazon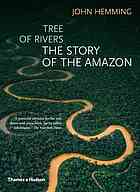 Publisher:
Thames & Hudson
paper, 368 pp., ISBN 978–0–50028–820–7, $24.95.
The distinguished British explorer John Hemming, a recognized authority on the native people who inhabit the Amazon River region in South America, tells of a turbulent past in this intriguing narrative. This work covers not only the history of the South American continent but also the astonishing natural resources that abound in the lands along the world's longest river system. Calling it a naturalist's paradise for its biodiversity, the award-winning author reviews the impact of the conquistadors on South America; the explorations of adventurers and rubber barons who sought to harvest the assets of the world's largest forest; and, in the twentieth century, the intrusion of the modern world into the lives of the native people. This remarkable work reflects the extraordinary depth and breadth of its author's knowledge. It is sure to become a classic.
— Marilyn K. Alaimo, garden writer and volunteer, Chicago Botanic Garden