Topiary: Design and Technique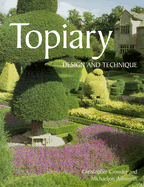 Author:
Christopher Crowder and Michaeljon Ashworth
Publisher:
Crowood Press (Distributed by Trafalgar Square Publishing, North Pomfret, Vt.)
Topiary, the craft of pruning plants into a desired ornamental form, has a long history, according to British horticulturist Christopher Crowder and garden historian Michaeljon Ashworth. Tracing it back to origins in the Middle East, they relate how interest in topiary has waxed and waned over the years with fashions in landscape gardening. Dividing the craft into two types, architectural and sculptural, they set forth to inspire the reader into taking up secateurs to develop artistic shapes out of growing greenery. Crowder, who has long experience in the craft, shares his knowledge of planning, planting, pruning, and maintaining healthy plantings. He suggests plants that are more desirable for specimens; how to form both simple and complex shapes; and how to solve common problems that may be encountered. Heavily illustrated, the book is an informative guide for this artistic craft, which is once again gaining popularity among gardeners.
— Marilyn K. Alaimo, garden writer and volunteer, Chicago Botanic Garden