Sustainable Landscape Management: Design, Construction, and Maintenance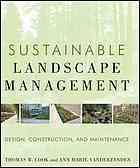 Author:
Thomas W. Cook and Ann Marie VanDerZanden
Decorated boards, 232 pp., $80.00
Sustainability, a cutting-edge subject in environmental awareness, has an impact on contemporary landscape design, construction, and maintenance. As horticulturists and educators, the authors provide an overview of the latest strategies in the field of landscape design and horticulture in both the text and illustrations of this book that is suitable for students and all concerned with the environment. Following a history of the sustainability movement, the authors call attention to the process of sustainable landscape design in addition to construction and maintenance alternatives that support this goal. In these pages readers will find the principles to create and maintain sustainable, beautiful scenery into the future.
— Marilyn K. Alaimo, garden writer and volunteer, Chicago Botanic Garden