Successful Container Gardening: 75 Easy-to-Grow Flower and Vegetable "Gardens"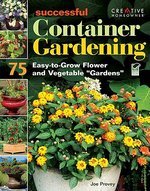 Publisher:
Creative Homeowner
Paper, 159 pp., $14.95
How to grow beautiful mixed plantings in containers is the theme of this well organized, informative garden guide. The author urges the reader to select a suitable ornamental style for the garden before selecting compatible pots and planters. He also notes that the wise gardener chooses potting mixes that fulfill the needs of individual plantings. The text then turns to the design of a wide range of herbaceous and woody plantings. The section on irrigation systems and problems contains the latest methods of watering containers. Handsome photographs are sure to inspire even the most experienced gardener.
— Marilyn K. Alaimo, garden writer and volunteer, Chicago Botanic Garden