Structure and Function of a Chihuahuan Desert Ecosystem: The Jornada Basin Long-Term Ecological Research Site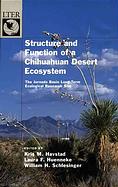 Author:
Kris M. Havstad, Laura F. Huenneke, and William H. Schlesinger
Publisher:
Oxford University Press
hardcover, 465 pp., $74.50
Located in the Chihuahuan Desert in south-central New Mexico, the Jornada Basin has served as an arid site for ecological study since 1912, when the region was formally set aside by presidential order as a reserve. Originally, the goal of research was the study of proper management practices for rangeland. The site provided demonstration grounds for the research results of regional stock producers. Over the years, visionary scientists have altered their approach, investigating more complex studies. Contributing scientists tell of the evolving history of the research program and its future directions. Even though this technical work is about a single region, the authors suggest that "these descriptions and understandings should translate to other arid ecosystems around the world." Liberally illustrated with maps and tables, this publication contains extensive references for the reader's further study.
— Marilyn K. Alaimo, garden writer and volunteer, Chicago Botanic Garden