Starting Seeds: How to Grow Healthy, Productive Vegetables, Herbs, and Flowers from Seed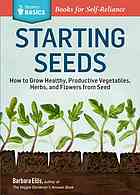 Publisher:
Storey Publishing
paper, 121 pp., $8.95
An expert gardener, Barbara Ellis reminds readers of the many advantages of growing plants from seeds and how to do so. She notes the wider selection of species and the lower cost per plant. She reminds the reader that if you want to be assured of fresh, organically grown crops throughout the year, start your own seeds. She provides tips on the best plants as well as when and where to grow them indoors or in the home garden. This handy booklet contains concise answers to about any question on growing healthy plants by seed germination. It makes a perfect gift for a novice or experienced gardener.
— Marilyn K. Alaimo, garden writer and volunteer, Chicago Botanic Garden