Smart Guide: Ponds, Fountains, and Waterfalls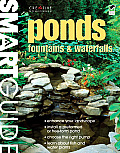 Author:
Fran J. Donegan (editor)
Publisher:
Creative Homeowner
Paper, 112 pp., $10.95
The editors of this guide wisely provide cautionary instructions on potential hazards in the addition of a variety of water elements to a garden. They then review aesthetic and practical considerations involved in the construction and routine maintenance of ponds and related structures. Finally, the text points out various options in the design and materials of such structures plus accessories such as lighting, fountains, and bridges. The selection and care of fish for a pond, a directory of suitable plantings, and a glossary complete this helpful publication.
— Marilyn K. Alaimo, garden writer and volunteer, Chicago Botanic Garden