The Sibley Guide to Trees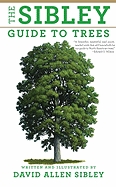 Author:
David Allen Sibley
flexible covers, 426 pp., $39.95
In this remarkably comprehensive guide to trees of North America, David Sibley provides concise descriptions and colored illustrations of the leaves, fruit, buds, and bark of more than 600 native and introduced tree species as well as the regions and habitats where they are commonly found. He introduces the methods for tree identification, the principles of taxonomy, and the importance of tree conservation in an informative introduction to the directory of trees, which are listed taxonomically. Additional materials include a map indicating plant hardiness zones and another with the North American ecoregions. Although packed with information, it is still a suitable size for use as a field guide by a naturalist.
— Marilyn K. Alaimo, garden writer and volunteer, Chicago Botanic Garden