Sheridan Nurseries: One Hundred Years of People, Plans, and Plants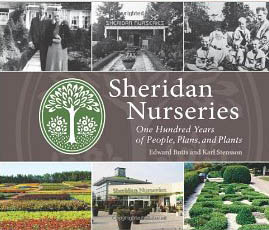 Author:
Edward Butts and Karl Stensson
cloth, 288 pp., $50.00
This inspiring story of the growth of a plant nursery covers 100 years of operation of a leader in the green industry. Visionary landscape architects Howard and Lorrie Dunnington-Grubb left their home in England in 1911, founded Sheridan Nurseries in 1913 in Canada, and began to import ornamental plants for use in their English style designs in their new country. The owners of this plant nursery had the vision to hire one of the most dedicated nurserymen in this new business, Sven Herman Stensson. Despite family qualms about living in pioneer conditions and facing the frigid northern climate, Herman, as he preferred to be called, and his fast growing family became pioneers of horticulture. The firm's archivist has expertly retained documents, photographs, Christmas cards, awards, as well as lists of successful plants, which Sheridan Nurseries introduced to an enthusiastic public. Although meant to be a tribute to a long enduring business, the story of the people who worked at Sheridan is especially fascinating. People of different backgrounds and interests were deeply motivated to bring the latest and best plants to an appreciative public.
— Marilyn K. Alaimo, garden writer and volunteer, Chicago Botanic Garden