The Self-Sufficient-ish Bible: An Eco-Living Guide for the 21st Century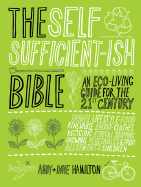 Author:
Andy and Dave Hamilton
Publisher:
Hodder & Stoughton
decorated boards, 399 pp., $34.95
Filled with a diversity of subjects to inspire the environmental enthusiast, this book contains much more than tips on how to recycle and save energy. It includes many nifty and imaginative projects for the home, landscape, and even a new way of life. Creative ideas range from games and activities for children to products for eco-friendly living. Tips on gardening abound, as do healthy food recipes to take advantage of nature's seasonal bounty. Color photographs and illustrated instructions encourage the reader "on living the green, self-reliant lifestyle." Bright, bold graphics entertain, but sometimes they are a little overwhelming in their intensity (just like the apparent enthusiasm of the authors).
— Marilyn K. Alaimo, garden writer and volunteer, Chicago Botanic Garden