Seeds, Sex & Civilization: How the Hidden Life of Plants has Shaped our World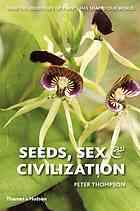 Publisher:
Thames & Hudson
cloth, 272 pp., $29.95
As a pioneer in the conservation of threatened plant species through seed banking, Peter Thompson, now deceased, examined in this work the impact of seeds on mankind. He pointed out that civilizations based on the cultivation of wheat differed dramatically from those dependent on other cereal grains–its cultivation led to cooperation and specialization. The author traced the steps from man's first understanding of the nature of a seed to contemporary times with the work on genetic modification. The author's discussion of seeds is wide-ranging, and in his closing words he observed that by 2006 seed banks had "conserved 95 percent of the available genetic diversity of rice, wheat, and maize," as well as large proportions of other major crop plants. Concluding this publication by Thompson, Stephen Harris, curator of the Oxford University Herbaria, focused on environmental challenges that mankind will face in the future. This book is recommended for students, researchers, and those with interests in plant conservation.
— Marilyn K. Alaimo, garden writer and volunteer, Chicago Botanic Garden