Saratoga in Bloom: 150 Years of Glorious Gardens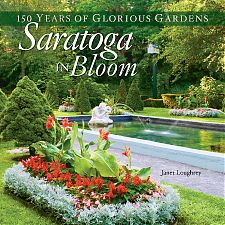 Publisher:
Down East Books
Cloth, 176 pp., $35.00
Located in the upper regions of New York State, Saratoga Springs has a fascinating past, which garden writer Janet Loughrey reveals in this celebration of the city's floral displays. The community first became known for its healthful waters, attracting the wealthy and famous as early as the eighteenth century. By the latter half of the nineteenth century, it was an attractive resort, featuring the largest hotel at the time and beautiful gardens in parks and palatial estates. Horse racing, which came later in the period, is still a prominent attraction. However, over time the community declined when a variety of facilities went out of fashion. Tying these features and activities together today are extensive floral plantings in public and private gardens and the business district as well as at the racetrack. Illustrating the importance of gardening, these beautiful landscapes have added to the quality of life in the community and revitalized the city, attracting an appreciative public again to this historic locale.
—Marilyn K. Alaimo, garden writer and volunteer, Chicago Botanic Garden