Sampling Rare or Elusive Species: Concepts, Designs, and Techniques for Estimating Population Parameters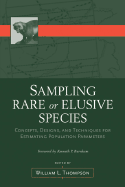 Author:
William L. Thompson (editor)
paper, 429 p., $35.00
Ecologist and biometrician William Thompson has brought together a collection of technical essays on the challenges and methods of measuring rare or elusive species. Focusing on animal populations, the contributors, experienced professionals in their fields of study, describe their methods in different types of sampling applications. These include estimating occupancy, abundance, density, survival, and other areas of concern. In a summary of the work, the editor remarks that in the future, scientists must use innovative thinking in developing new measurement methods. He urges researchers to consider other techniques outside their normal disciplines. He also forecasts that advances in technology, such as genetic techniques and equipment, will improve methods of estimating abundance and that new software will make accounting results more accessible to all those concerned with the conservation of threatened species.
— Marilyn K. Alaimo, garden writer and volunteer, Chicago Botanic Garden