The Royal Horticultural Society Treasury of Flowers: Writers and Artists in the Garden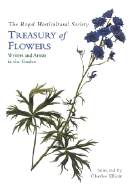 Author:
Charles Elliott (editor)
Publisher:
Frances Lincoln
cloth, 144 p., $35.00
Inspiring artists and writers alike over the centuries, flowers are the theme of this exquisite volume, edited by British author Charles Eliott. The full-color botanical illustrations come from the extraordinary collection of the Royal Horticultural Society's Lindley Library. Each precious drawing is annotated and dated, reflecting a history of the art. Capturing the character of individual flowers in either prose or poetry, the selected written works are creations of a wide range and long history of writers, from the sixteenth century's William Shakespeare and John Gerard to authors such as Vita Sackville-West and Colette in the twentieth century. While poets focus on praising the beauty of flowers in lyrical works, authors of prose relate in descriptive passages the individual flower's characteristics in the garden setting.
— Marilyn K. Alaimo, garden writer and volunteer, Chicago Botanic Garden