Return to Wild America: A Yearlong Search for the Continent's Natural Soul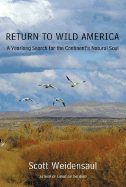 Publisher:
North Point Press
hardcover, 394 p., $26.00
Readers have the exciting opportunity to travel by armchair with Scott Weidensaul across North America, joining him as he is balancing on the rim of a cliff over nesting birds in Newfoundland or gazing with awe at basking elephant seals on a beach in California. They are following in the steps of the legendary birding expert Roger Tory Peterson and the British naturalist James Fisher, who journeyed across the continent in 1953 in their research for the popular book, Wild America. Repeating the trip from Newfoundland to Florida, across to Mexico, and then north along the Pacific coast to the islands off Alaska, the author compares his findings on the status of wildlife and the environment with the conclusions of Peterson and Fisher fifty years ago. A Pulitzer Prize nominee in 1999, the author has written a great nature book, destined to become a classic, that relates both the wonders that still exist and those that are only a memory. His descriptive text is both lyrical and factual in content, a journalistic feat in an age when the environment is so seriously threatened by urban sprawl and invasive species. Despite the depressing injury to nature over the years, he found that ultimately there was a "far more optimistic picture emerging" than expected.
— Marilyn K. Alaimo, garden writer and volunteer, Chicago Botanic Garden