Rematerial: From Waste to Architecture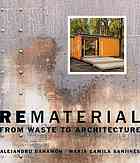 Author:
Alejandro Bahamón and Maria Camila Sanjinés
Paper, 339 pp., $49.95
Spanish architect Alejandro Bahamón and artist Maria Camila Sanjinés have teamed up to promote the use of discarded materials in the design of functional structures and their components. Bahamón reminds readers that in previous ages, "it was a common practice to reuse stones from great monumental constructions" and to place new structures on the foundations of previous buildings. He urges the recycling of waste materials, and the text carries out this theme with a discussion of ideas and illustrated projects. These are imaginative and provide more than thirty sustainable design solutions from special initiatives to provide housing and facilities for refugees to the creation of multi-purpose spaces and artistic landscapes.
—Marilyn K. Alaimo, garden writer and volunteer, Chicago Botanic Garden