Regent's Park and Primrose Hill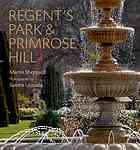 Publisher:
Frances Lincoln
cloth, 112 pp., $29.95
One of six royal parks in inner city London, Regent's Park was developed in the nineteenth century when there was a surge of expansion in that capital. The property of kings for centuries, it was a hunting park for monarchs and later, a token of favor for the aristocracy. The future of the parkland changed in character in 1811 when a plan submitted by John Nash, a senior architect in the government, was approved for its development. Instead of a standard gridiron design for urban improvement, his plan called for a lake, a canal through the center, and suitable housing for the aristocracy around the property's perimeter. The most ingenious element of the plan called for terraced housing. The exterior of these buildings looked like palaces, while their interiors consisted of individual houses. Incorporated in the design was a series of villas, set alone in the park settings. Public access to the parkland was originally restricted, but in the 1830s sentiment changed and over time, portions of the parkland were opened to the general public. British historian Martin Sheppard traces the evolution of this famous site from its medieval beginnings to contemporary times.
— Marilyn K. Alaimo, garden writer and volunteer, Chicago Botanic Garden