A Rare Botanical Legacy: The Contributions of Ruby and Arthur Van Deventer in Northwestern California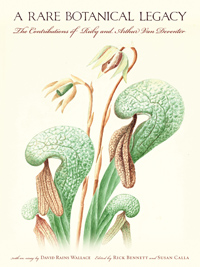 Author:
Rick Bennett and Susan Calla (editors)
cloth, 153 pp., $35.00
This magnificent volume tells the story of Ruby and Arthur Van Deventer and their efforts by word and illustration to describe the flora of Del Norte county in northwestern California. With 128 reproductions of Arthur's paintings of exotic and beautiful plants and flowers, this volume explains the effectiveness of two dedicated amateurs in understanding the natural world around them. Prefaces by Rick Bennett and Susan Calla set the stage, followed by an excellent essay by David Rains Wallace on the efforts of the Van Deventers for decades to record and save a very special flora. Indeed, Willis Jepson remarked that the Van Deventers "filled an empty gap in an unknown area of California's floristic world." This book is unique, like Ruby and Arthur Van Deventer, and should appeal to anyone interested in plant conservation as well as plant illustration.
— Edward J. Valauskas, curator of rare books, Lenhardt Library, Chicago Botanic Garden