Raised–bed Vegetable Gardening Made Simple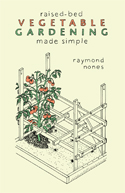 Publisher:
Countryman Press
Paper, 192 pp., $15.95
A knowledgeable gardener with long experience in growing vegetables, author Raymond Nones is an advocate of framed, raised beds and a modular approach to raising produce for the table. Illustrated with sketches that detail his gardening method, he explains the system in a step–by–step process, beginning with planning and initial planting, and continues through harvesting, cleaning up, and preparing the raised beds for winter. Succession planting, crop rotation, and the garden calendar are subjects of interest to novice gardeners who successfully complete the first year in growing vegetables by the new system. Readers will find answers to many gardening questions in this handy guide from a dedicated gardener.
— Marilyn K. Alaimo, garden writer and volunteer, Chicago Botanic Garden