The Quest for the Perfect Hive: A History of Innovation in Bee Culture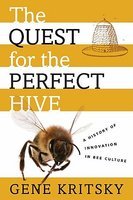 Publisher:
Oxford University Press
Cloth, 198 pp., $24.95
This utterly charming, informative book on the care of bees is attractive from its dust jacket and gold and black binding — matching the color of bee skeps and bees respectively — to its many archival illustrations. Author Gene Kritsky describes the origin of beekeeping, going back as early as the Mesolithic period and then traces this occupation down through history. His report on the innovations that were introduced at the Crystal Palace in London in 1851 is filled with intriguing inventions to assist beekkeepers.
— Marilyn K. Alaimo, garden writer and volunteer, Chicago Botanic Garden