Professional Planting Design: An Architectural and Horticultural Approach for Creating Mixed Bed Plantings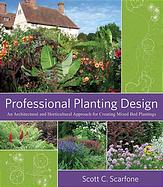 Author:
Scott C. Scarfone
paper, 272 pp., $55.00
Tackling the art of creating successful mixed bed plantings, landscape architect Scott Scarfone covers the fundamentals of design as applied to planting compositions. Using mainly black and white drawings and photographs to illustrate principles, he prods the reader to think first of architectural concepts, forms, and textures before considering color compositions. High marks go to the author for his presentation. He discusses sites where the gardener employs a range of planting types — woody, herbaceous, annual, biannual, and bulbs, often with a succession of displays. Although the author does mention horticultural challenges, the discussion seems too brief, as these may lead to the failure of artistic plantings. For example, when either adjacent or succession plantings have differing needs for irrigation during the growing year and over time, a gardener will likely encounter plant loss. It would also have been useful if he had discussed failed color compositions in his evaluations. Nevertheless, this book is highly recommended for all who want to bring beauty into the landscape.
— Marilyn K. Alaimo, garden writer and volunteer, Chicago Botanic Garden