Prairie Plants of the University of Wisconsin-Madison Arboretum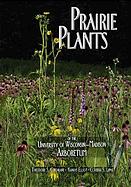 Author:
Theodore S. Cochrane, Kandis Elliot, and Claudia S. Lipke
Publisher:
University of Wisconsin Press
Among the natural wonders of North America are the extensive grasslands across the United States, reaching from mid-continent westward toward the mountains and northward into Canada. The northern temperate grassland is noted for three native plant groups, identified by climate, as well as height and type of vegetation. The short grass plains are in the dry lands east of the mountains; the mixed grass prairies, just east of that; and the tallgrass prairie dominates Wisconsin grasslands. This guidebook contains a description of these lands, centering on the variety of vegetation on prairie land at the Madison Arboretum. To assist the reader in identifying plant species, there is a glossary with colored drawings of flower parts, prior to a listing of groups of individual plant species by families. The individual profiles of species contain both text and full-color photographs that depict the plant in bloom and in its native habitat; a colorful drawing depicts the seedpod. After a description in technical terms, the narrative relates where it may be found in Wisconsin and the degree of its rarity. Readers will find that the expert photographs and drawings in color enhance the well-written text, making plant identification easier and even more of a pleasure.
— Marilyn K. Alaimo, garden writer and volunteer, Chicago Botanic Garden