Planting Wetlands and Dams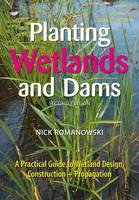 Publisher:
Landlinks Press
Paper, 126 pp., $41.00
Australian nurseryman Nick Romanowski presents a practical guide to wetland creation, restoration, and management, based on his three decades of experience creating habitats for wetland animals. He begins his discussion with a definition of a wetland and the different types of wetlands known worldwide. He lists a variety of factors that go into the creation of a new habitat — these include the general climate and existing dams, plus the construction, equipment, and materials involved in additional retention facilities. When planting operations begin, he advises the selection of plants and seeds from as close to the planting site as possible and the use of suitable combinations that will thrive well together. Included in this nicely illustrated text is a directory of major plant groups for wetlands along with propagation guidelines.
— Marilyn K. Alaimo, garden writer and volunteer, Chicago Botanic Garden