Plant Physiology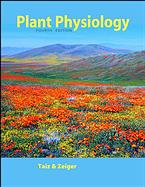 Author:
Lincoln Taiz and Eduardo Zeiger
Publisher:
Sinauer Associates
Decorated boards, 764 p., $109.95
Ably assisted by a group of highly eminent contributing authors and dedicated reviewers, biologists and educators Lincoln Taiz and Eduardo Zeiger have updated their popular university-level textbook on plant physiology. Certain chapters have been rewritten or added to reflect the rapidly growing advances in the field. One important addition is the chapter on brassinosteroids, a group of steroid hormones found in plants that play significant roles in plant development. New information also covers "the most exciting new findings ... the tentative identification of the long sought-after photoperiodic floral stimulus as a specific macromolecule." The text is heavily and handsomely illustrated with full-color photographs and drawings, making schematic diagrams and cross-sections easy to understand. The graphic design of the text is particularly outstanding for a technical work. Coordinated with this written text is material for students and instructors on a companion website.
— Marilyn K. Alaimo, garden writer and volunteer, Chicago Botanic Garden