Plant Conservation: An Ecosystem Approach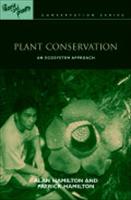 Author:
Alan Hamilton and Patrick Hamilton
paper, 324 p., $45.00
cloth, $145.50
Conservation of the world's plants is the theme of this book, written by distinguished British authorities Alan Hamilton and Patrick Hamilton. To save the planet, the plants that directly or indirectly feed the animals, including the world's human population, must be conserved, and local people must be involved for conservation programs to be successful. Based on their personal experience in the fields of ethnobotany and conservation, they point out that major plant loss is directly connected to human activity, and programs must relate to a wide diversity of plants and interests of mankind. Using case studies from around the world, the text explores the management of plants and land, reviewing examples of the many separate challenges that conservationists face. The authors encourage the use of applied ethnobotanical approaches to conservation and sustainable development. This comprehensive volume integrates various research findings and perspectives of different constituencies in the field of conservation.
— Marilyn K. Alaimo, garden writer and volunteer, Chicago Botanic Garden