Plant Combinations for your Landscape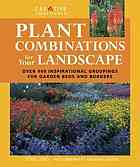 Publisher:
Creative Homeowner
ISBN:
ISBN 978–1–580–11509–4
paper, 368 pp., $14.95
Award-winning British author and horticultural consultant Tony Lord offers suggestions on planting combinations, using a system of major characteristics and cultural requirements as a guide to selection. He remarks on several factors to consider when selecting plantings: for instance, the quality of light at different times of the year, the seasonal range of dominant colors, the difference in effects of various planting schemes, and the placement of plantings in the garden scheme. The text is organized by the different type of plants — shrubs and small trees, climbers, roses, perennials, bulbs, and annuals. The description for each selection includes keys to main characteristics, including cold hardiness. Lord lists suitable companion plantings. Even though some plants may not be readily available on this side of the Atlantic, this book is of good value for novice as well as experienced gardeners.
— Marilyn K. Alaimo, garden writer and volunteer, Chicago Botanic Garden