Pharaoh's Flowers: The Botanical Treasures of Tutankhamun Second Edition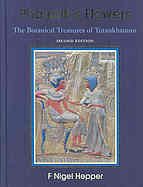 Publisher:
KWS Publishers
decorated boards, 87 pp., $35.00
Readers who are intrigued with the study of Egyptology will take pleasure in this extraordinary, easy-to-read report on the flora found in the tomb of Tutankhamun, a New Kingdom, 18th dynasty pharaoh. Discovered in 1922 by Howard Carter under the sponsorship of his patron, the Fifth Earl of Carnarvon, this Egyptian burial site was a rare find, for it had remained untouched through the centuries. It contained not only the furnishings meant to accompany the ruler into his afterlife, but also "botanical treasures" that are the basis of this publication on ancient plant materials. British author F. Nigel Hepper has collected rare archival photographs that illustrate the usage of plant materials in the tomb. These consist of the actual flowers and leaves, as well as plant products. He writes about the scientists who through laborious research identified the incredible quantity of these materials, telling of the origins of many species. Accompanying the text are the author's botanical photographs and drawings of plants from actual specimens. He identifies the plant materials found in garden scenes on walls and furnishings, providing the reader with insight on the floral symbolism in ornamentation and architecture.
— Marilyn K. Alaimo, garden writer and volunteer, Chicago Botanic Garden