Perennials Short and Tall: A Seasonal Progression of Flowers for Your Garden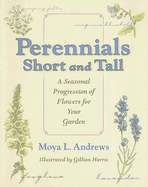 Publisher:
Indiana University Press
paper, 146 pp., $19.95
As the author notes, "gardening is the ancient practice of passing plants along from one garden to another." Writing in an informative, yet casual style, Moya Andrews gives advice on growing flowering perennials for both novice and experienced gardeners. Sorting out 25 dependable varieties, Andrews describes their virtues, placing each into its individual season of bloom, thus providing a palette of reliable plants to serve as the backbone of the garden scheme. Along the way, she presents the fundamentals of gardening with herbaceous materials, including such diverse subjects as plant nomenclature, scheduling of tasks, flower border design, and arranging flowers for interior display. The colorful line drawings by the noted naturalist Gillian Harris are exquisite, capturing the fragility of each flower.
— Marilyn K. Alaimo, garden writer and volunteer, Chicago Botanic Garden