The Perennial Care Manual: A Plant-by-Plant Guide: What to Do & When to Do It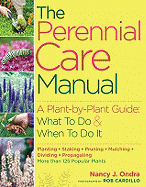 Publisher:
Storey Publishing
paper, 375 pp., $24.95
Nancy Ondra, an award-winning author, gives excellent advice in this comprehensive review of perennial plant culture. The work, organized in two sections, contains an examination of the basics of plant care, starting with designing a lower-maintenance garden and then continuing with planting and moving perennials, their general culture (fertilizing, mulching, pruning, and propagating), and finally identifying plant problems. In the second section, there is an extensive directory of plants, organized by genus, which covers hundreds of popular perennials. Illustrated with high clarity color photographs, each informative description relates identifying characteristics of popular species, growing tips, seasonal care, and potential plant problems.
— Marilyn K. Alaimo, garden writer and volunteer, Chicago Botanic Garden