The Peach: Botany, Production and Uses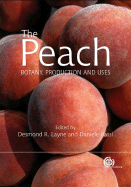 Author:
Desmond R. Layne and Daniele Bassi, editors
Publisher:
Oxford University Press
cloth, 615 pp., $270.00
The peach has a mystical background. A symbol of immortality to the Chinese, it appeared in Chinese literature and Taoist mythology, and has been under cultivation in China for 3,000 years or more, according to editors Desmond Layne and Daniele Bassi. Probably carried along the Silk Road to Persia, it was first introduced to the Romans around the first century B.C. Its luscious flavor and healthful qualities have made it a signal of summer delights and one of the most popular fruits. This collection of research covers a broad range of peach-related subjects from its long history and botany through such topics as breeding, methods of cultivation, pests and diseases, to harvesting and post-harvest care. A vital reference for researchers, academics, students, horticultural consultants, and growers, this review of peach culture is heavily referenced, filled with tables, and illustrated in black and white as well as color.
— Marilyn K. Alaimo, garden writer and volunteer, Chicago Botanic Garden