A Passion for Trees: The Legacy of John Evelyn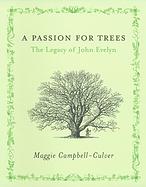 Author:
Maggie Campbell-Culve
Publisher:
Eden Project Books
Paper, 201 p., $29.95
High praise to author Maggie Campbell-Culver for the excellence of her work about arguably the most important English garden writer in the seventeenth century! Scholarly yet fascinating, the text details the life and labors of John Evelyn, providing readers with insight into the significance of his writings at a period when Britain faced a critical depletion of a major natural resource: its trees. Deforestation had seriously affected the welfare of the country and Evelyn was charged by the Royal Society to write a book on trees in order to encourage such plantings and their good husbandry. Although Evelyn's purpose was to inspire the readers of Sylva: A Discourse of Forest Trees, published in 1664, to plant trees for their utility, he was among the first to express an appreciation for their aesthetic value and to advocate their conservation. This fact is evident in his writings, quoted frequently in descriptions of his favorite trees. Though scientific advances have outdated portions of the text, much of Evelyn's advice is relevant today, as global deforestation becomes a major issue. Superbly written with outstanding graphic design, this book is highly recommended to all readers.
— Marilyn K. Alaimo, garden writer and volunteer, Chicago Botanic Garden