Paradise of exiles: The Anglo–American gardens of Florence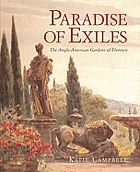 Publisher:
Frances Lincoln
cloth, 176 pp., $60.00
After the end of the Napoleonic Wars in the first quarter of the nineteenth century, travelers to Italy were attracted to Florence through the contemporary works of prominent British and American writers. The newcomers flourished in its inspiring culture, including those who were social misfits in their native land. Scores of tourists settled there. As the author of this work notes, by 1900, these expatriates "represented one sixth of the resident population." The impact of the wealthier newcomers on Florence can be seen in its Anglo–American gardens. These gardens are beautifully illustrated in archival and contemporary photographs tied to the author's narrative on the lifestyles of prominent owners of villas in this colony of anglophones. These landscapes were products of their owners' Italian fantasies and longings for former homelands.
— Marilyn K. Alaimo, garden writer and volunteer, Chicago Botanic Garden