Orchids of French Guiana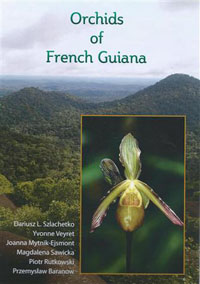 Author:
Dariusz L. Szlachetko, Yvonne Veyret, Joanna Mytnik–Ejsmont, Magdalena Sawicka, Piotr Rutkowski, and Przemyslaw Baranow
Publisher:
Koeltz Scientific Books
cloth, 409 pp., 872 plates, €172,00
The equatorial forests in French Guiana are important for maintaining Earth's biological diversity. Scientists estimate that over 70 percent of the world's plant, animal and fungus species are contained in these regions. With similar forest areas around the world declining, the vital nature of these natural resources in this specific country becomes more prominent. Because of the remoteness of the area and its low population rate, the authors note that there is genuine hope that the rate of deforestation will continue to be the lowest in South America. They point out that the flora of French Guiana has changed little, making the country a valuable region for research into biological diversity. They explain the materials and methods that were used in the field research, the particular flora, and the type of forests that examined in a remarkable search for specimens. A major section of this work contains color plates of drawings of specimens from both field work and archival records. This is a magnificent document describing some of the rarest plants in the world.
— Marilyn K. Alaimo, garden writer and volunteer, Chicago Botanic Garden